These hand-blown Austrian wine glasses are the talk of sommeliers and wine experts worldwide. Because they're hand-blown in one piece, the stem is more flexible, making it more durable than it looks. Not only are they spectacular to hold, Zalto insists their glasses be cleaned by dishwasher, mitigating breakage by hand-washing. 
Made of polished stainless steel, this cooler has an organic-look and elliptical opening that holds any bottle at the perfect angle. This cooler is as chic as they come, and ensures that your bubbly remains cool once you've poured the first glass.
A French invention when refrigeration didn't exist, a little water and some suction keeps butter in perfect spreading consistency and at the same time, fresh. Marble naturally keeps butter cool, and the French naturally know their way around a kitchen. Need we say more?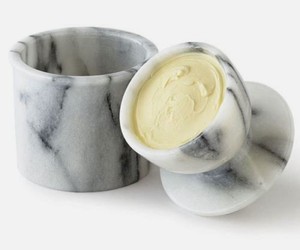 We brought Dibbern to Canada when we opened, and line of German dinnerware struck a chord from day one. Their shapes, designs and craftsmanship result in exquisite bone china. And they straddle a line that make it elegant for everyday, yet sophisticated enough for entertaining.
Now that most of us use various forms of sea salt (Maldon, Fleur de Sel are the most popular) to finish a salad, soup or main dish, a salt keeper is everyone's new kitchen staple. This olivewood version's swivel top makes cooking and storing a cinch.
These placemats are irresistible. From her design studio in Milan, Corti's world revolves around colour, inspired by her childhood in Eritrea and her travels to India. She is unafraid to mix florals with jewel-tone geometrics, for a dazzling result. Her cork-backed placemats are made with treated wood fibres from repeated beechwood, and their glossy surfaces are easy to clean. 
Form meets function: this wine decanter is stunning in its simplicity, and is designed

 for any red or white wine that requires ample room to breathe.
A naturally recycled product, Scottish Red Deer shed their antlers at the end of every winter. And because these are created by nature, no two are ever alike.
Amazing value for your dollar, this modern design is combined with Schott Zwiezel's patented Tritan technology for maximum break-resistance.
Richard Brendon's Diamond glasses are mouth blown and then hand-cut with a tight diamond pattern.  A contemporary take on the traditional, Richard Brendon's items are modern classics.
Acrylic tableware often comes with certain design limitations, but they have been shattered by Florence-based designer Mario Luca Giusti, known for his glasslike synthetic tableware. This pitcher reminds us of a retro Kool-Aid pitcher and comes in a variety of vibrant, happy colours. 
An incredible stylish presentation for your oil, made with high quality Italian glass.
Made from plastic-free silicone, these eco-friendly mats are BPA-free, heat resistant to 450F, and the memory-free silicone means they never wear or tear.
Who doesn't love a personalized gift? Adding a set of initials elevates this elegant item to the next level.
Our limited-edition table mats combined Avenida Home's beautifully-made English table mats with the artists of Cape Dorset. The result was a collection that sold out in mere weeks, with a portion of those proceeds benefitting each artist as well as Cape Dorset's new Keojuak Cultural Centre. If you missed out, fret not, our 2018 Collection will be released this Fall. In the meantime, check out Avenida Home's Animal mats for a punch of colour and whimsy.